Not quite, but foreclosures are nearly back to where they were before the housing market crumbled, according to a recent article from CNN Money. This is an excellent sign for homeowners and sellers. Not as great for buyers and investors looking for bargain basement prices, but we're definitely seeing a more balanced environment for buyers and sellers.
"Foreclosure filings -- including notices of default, scheduled auctions and bank repossessions -- during the first quarter fell 23% from a year earlier, the lowest level since the second quarter of 2007.
Last month, banks repossessed just under 44,000 homes. In September 2010, repossessions topped 100,000 a month."
We expect a tighter inventory with fewer distressed properties which could result in higher selling prices and stronger competition between sellers, especially in desirable areas such as Northern New Jersey and Morris County where the market is already picking up.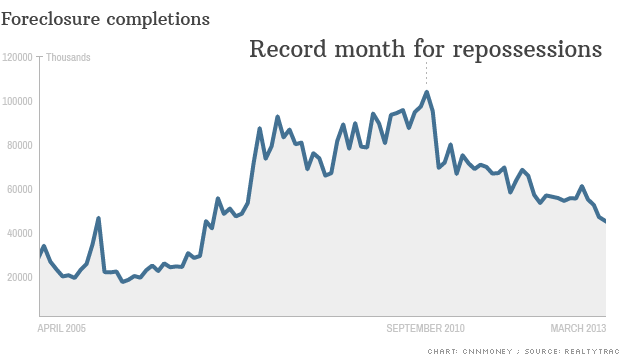 Another promising trend is the reduction in short sales. Foreclosure is nearly always the last option for any homeowner, so many distressed sellers have chosen short sales, where the mortgage lender lets the owner sell the home for less than they owe. The lender usually gets back more of its money than after a foreclosure, and the homeowner's credit does not take as big a hit. According to CNN Money, even short sale numbers are falling, which indicates to us that the market is definitely picking up and becoming more stable.

We're excited about the direction that the market continues to head, but foreclosures and short sales are still very real concerns for some homeowners. Both Smitha and Rahul are Certified Distressed Property Experts (CDPE) and can help find a solution to your unique situation, whether it's avoiding foreclosure or guiding you through a short sale. We're here to help you achieve your goals, so please don't delay. Call us today for a free consultation to go over your options!
Rahul and Smitha Ramchandani are a licensed real estate Broker-Salesperson/Sales Representative Team with Keller Williams in New Jersey. They are Buyer Specialists and a Home Marketing Experts. You can reach Smitha and Rahul and their team online at:
http://www.Morris-Homes.com
,
http://www.SRRealEstateGroup.com
, and http
://www.TheTownhouseExpert.com
.
Their team specialize in North Central New Jersey including towns such as
Boonton
,
Chatham
,
Chester
,
Convent Station
,
Denville
,
East Hanover
,
Florham Park
,
Hanover
,
Harding Twp.
,
Mendham
,
Montville
,
Morristown
,
Morris Plains
,
Morris Twp.
,
Mountain Lakes
,
Parsippany
,
Randolph
,
Rockaway
,
Whippany