Check out what's happening this month in real estate!
Median home prices dipped slightly from October to November, dropping 0.6% from $197,500 to $196,300 according to NAR. Year-over-year home prices continue to post significant gains with prices up 9.4% from last November. However, November is the first month since the same month of the previous year to have a year-over-year gain of less than 10%.

According to the National Association of Realtors, the seasonally adjusted rate of home sales declined 4.3% from last year to an annual rate of 4.9 million homes. The rate of home sales is down 1.2% from the rate reported in November of last year; however, the decline in the portion of sales made up of distressed properties, from 22% last year to 14% this year, means we likely are still seeing positive year-over-year gains in conventional home sales. As banks begin to implement new lending regulations, credit tightness is likely hampering home sales and may continue to do so in the beginning of the New Year.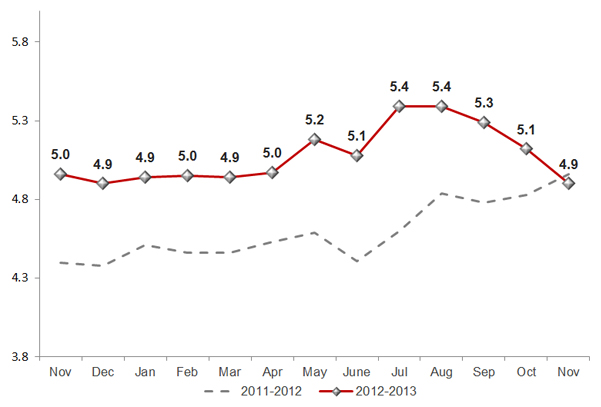 The level of total housing inventory in the country dropped in November to 2.09 million homes, down 1.9% from the previous month. Month of supply of inventory, however, ticked up slightly due to the lower pace of sales this month. The number of months of supply represents how many months it would take the current level of inventory to sell given the current sales pace if no other homes were added to the market. Supply in October represented 5.1 months, up 4.1% from the previous month, and up 6.3% from November of the previous year.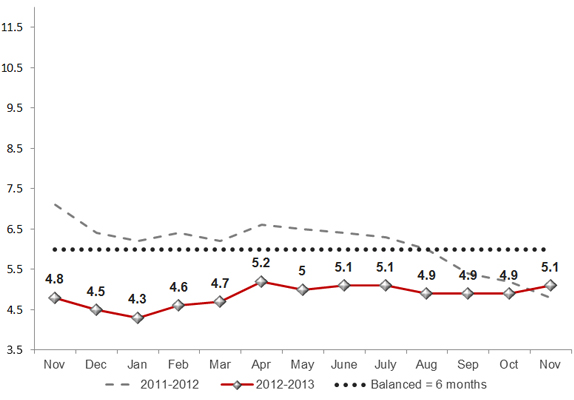 The opinions expressed in This Month in Real Estate are intended to supplement opinions on real estate expressed by local and national media, local real estate agents and other expert sources. You should not treat any opinion expressed on This Month in Real Estate as a specific inducement to make a particular investment or follow a particular strategy, but only as an expression of opinion. Keller Williams Realty, Inc., does not guarantee and is not responsible for the accuracy or completeness of information, and provides said information without warranties of any kind. All information presented herein is intended and should be used for educational purposes only. Nothing herein should be construed as investment advice. You should always conduct your own research and due diligence and obtain professional advice before making any investment decision. All investments involve some degree of risk. Keller Williams Realty, Inc., will not be liable for any loss or damage caused by your reliance on information contained in This Month in Real Estate.
Rahul and Smitha Ramchandani are a licensed real estate Broker-Salesperson/Sales Representative Team with Keller Williams in New Jersey. They are Buyer Specialists and Home Marketing Experts. You can reach Rahul and Smitha and their team online at:
http://www.Morris-Homes.com
,
http://www.SRRealEstateGroup.com
and http
://www.TheTownhouseExpert.com
Their team specialize in North Central New Jersey including towns such as
Boonton
,
Chatham
,
Madison
,
Chester
,
Convent Station
,
Denville
,
East Hanover
,
Florham Park
,
Hanover
,
Harding Twp.
,
Mendham
,
Montville
,
Morristown
,
Morris Plains
,
Morris Twp.
,
Mountain Lakes
,
Parsippany
,
Randolph
,
Rockaway
,
Whippany
.